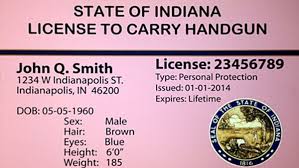 The Indiana House has approved a bill to allow those protected by an order of protection to carry handguns without a license.
The measure by Rep. Sean Eberhart passed Tuesday on a 71-26 vote and now heads to the Senate.
The Shelbyville Republican says the bill would allow domestic violence victims to protect themselves without waiting for approval of a handgun license.
Democrats say the measure is a "Trojan horse" designed to erode reasonable firearms restrictions. They say statistics show many gun owners are killed with their own weapons.
The bill also includes a provision calling for a special committee to study the elimination of Indiana's handgun licensing requirement.
Republican Rep. Jim Lucas of Seymour says doing away with the state's licensure requirement is his ultimate goal.