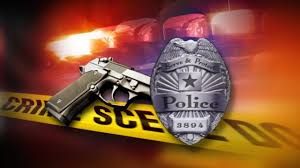 The suspect shot by state police in Vincennes last night has died.  He has been identified as 35-year-old David Zimmerman of Princeton.
A felony parole warrant for manslaughter had been issued for him this month out of Gibson County and last night, police received information he was in the Vincennes area.  They saw him just before 9 in a Dodge pickup pull into the Chuckle's Store on Old Decker Road.
Troopers in unmarked vehicles pulled behind him and Zimmerman put his vehicle in reverse and collided with the police cars.  Troopers opened fire when they say Zimmerman reached for a weapon.  He was shot and taken to Good Sam and died.  A vehicle search turned up a handgun.   The investigation is continuing.