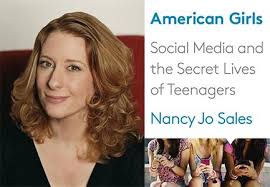 Author Nancy Jo Sales interviewed over 200 girls about their online acitivites.
Some young girls in Indiana have been pressured to send nude photos of themselves to men, said author Nancy Jo Sales. She interviewed some girls in New Albany as part ofg her research for the book "American Girls:Social Media and the Secret Lives of Teenagers".
"I felt very close to these girls and the kinds of things they were dealing with were just incredible," said Sales, whose mother grew up in Indianapolis.
She interviewed more than 200 girls across the country between age 13 and age 19. She said that you might be surprised to find out not only what some of them are doing on social media, but also the culture among girls that age and the attitude they have about allowing themselves to be exploited.
"I never blame the girls. It's really a cultural problem. They very often require certain kinds of engagement. You're supposed to get likes and you're supposed to get followers and there's a lot of pressure on girls to do this through sometimes very sexualized posting and content."
She said that she found girls that age go through that pressure and end up being sexualized and experiencing sexism.
"A lot of sexual harassment. A lot of non-consensual sharing of nudes. What was most shocking of all was how 'normal' it all was," she said.
Sales said she believes that the best way to combat the problem goes beyong downloading a monitoring app.
"I think what we really have to do as parents is come out of our denial and see really what's going on with technology and become more involved. Monitoring apps really can't see everything. We have to think in more broad strokes, culturally. Not just what apps they're on, which is important to know, but really the attitudes behind the things that go on there."
(story from Network Indiana)