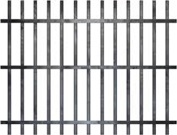 KNOX COUNTY
-A Monroe City man was jailed Sunday at 6:20-pm for disorderly conduct, resisting arrest and criminal trespassing. Vincennes Police were called to Autumn Ridge Apartments for a citizen dispute where they arrested 26-year-old Brent Banta on the charges.
-Two were arrested at 7 last night at the Vincennes Wal Mart after an alleged shoplifting incident.  46-year-old Angela Albright and 43-year-old Angela Mangus both of Vincennes are both charged with a misdemeanor count of theft.  Albright was also charged with a felony count of forgery.
-Vincennes Police responded to a fight at Willie's Pub around 2:30 am Sunday. 25-year-old Kendly Baptiste of Washington was taken into custody on a Daviess Bench Warrant.
-Vincennes Police arrested a local man on a Knox County warrant early Sunday morning. 25-year-old Eli Thompson was located by officers in the 200 block of Buntin Street Shortly after Midnight and taken into custody. Thompson was wanted on a warrant for misdemeanor offense.
-Around 8:45 p.m. New Year's Eve, Vincennes Police arrested Caleb Smith in the 100 Block of New Albany and charged him with minor consumption.
DAVIESS COUNTY
-Odon Police arrested 37-year-old Nichole May Stotts of Elnora early Sunday morning.  Stotts was charged with operating while intoxicated with a controlled substance, possession of marijuana and possession of paraphernalia.  She was jailed at 3:30-am Sunday. She was released on bond.
-Washington City Police made a traffic stop at Southwest 6th and Dewey at just after 3 Sunday morning.  Upon investigation, 20-year-olf Vladimir Dorcinvil was arrested for operating while intoxicated with refusal and with endangerment and minor possession of alcohol. Bond was posted.
– 25-year-old Kendly Baptiste of Washington was arrested in Vincennes Sunday at 2:30-am.  He was taken into custody after fight at Willie's Pub in Vincennes.  He was found to be wanted on a Daviess County warrant for  for battery resulting in bodily injury and possession of marijuana. He was taken to the Daviess County Security Center and booked at 11:25 Sunday morning.