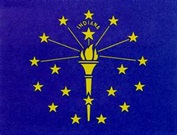 L-G-B-T activists are sounding an alarm about what they warn is a new religious-freedom bill — but its authors say they're misreading the bill.
Two identical Senate bills seek to block courts from interpreting religious doctrine. The gay-rights group Freedom Indiana charges the bills would let companies ignore local gay-rights ordinances on religious grounds. A fundraising email blasts the bills as "dangerous" and "heinous."
The bill defines religious organizations as "any church, seminary, synagogue, temple, mosque, religious order, religious corporation, religious association, or religious society whose identity is distinctive in terms of a common religious creed." Freedom Indiana campaign manager Chris Paulsen argues that language isn't tight enough.
Republicans Travis Holdman of Markle and Jeff Raatz of Centerville separately introduced the bills, which would also ban courts from relying on foreign countries' laws in arriving at rulings. Holdman says the possibility of applying the hands-off directive on religious doctrine to private businesses was "the furthest thing from (his) mind."
Holdman says he introduced the bill at the request of constituents concerned about both Islamic fundamentalist Sharia law and judicial attempts to dictate church doctrine. He says he's not aware of any Indiana judge attempting to do either.
(story from Network Indiana)