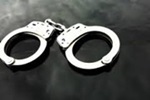 KNOX COUNTY
-Dalton Watts, 21, was booked into the Knox County Jail at 11:40-am Tuesday on a warrant for failure to appear.
-Bicknell Police arrested 33-year-old Amanda Dunn for possession of marijuana and operating a vehicle while intoxicated.  She was jailed at 2:14 am Tuesday.
-Yesterday morning, The Knox County Sheriff's Department booked 41-year-old Paul Sidall into jail on a warrant for contempt of court.
DAVIESS COUNTY
-At 9:33-last night a Washington man was incarcerated in Davies County for sexual misconduct with a minor.  The Daviess County Sheriff's Department arrested 24-year-old Jared D. Wittmer on the charge. Bond was set at $50,000 and bond was posted overnight and he was released.
-A 41-year-old Loogootee woman was arrested on a warrant for false informing last evening.  Gretchen M. Harbison was booked into the Daviess County Security Center at 7:11pm and was being held on a $2500.
-A Martin County man was arrested by Washington Police after an investigation involving drugs.  34-year-old Joshua t. Rush of Shoals was charged with possession of a schedule-2, 3, and 4 substances.  His bond was set at $2000 after being jailed at 7:20 last night.
-21-year-old Duke A. Webber of Washington was arrested on a warrant for theft and released after posting bond.