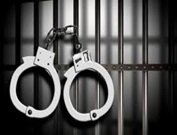 -A Vincennes man was jailed in Daviess County yesterday on a warrant for two counts of dealing meth.  The Daviess County Sheriff's Department arrested 35-year-old Antwan Johnson.  He was booked in at 12:23-pm on a $400,000 bond.
-Two Washington residents were arrested in the Vincennes Wal-Mart parking lot last night. Vincennes police were there to investigate a report of a shoplifting.  Andrew David Lotspeich, 32-years- old was arrested for possession of meth and 26-year-old Alicia Alexander was arrested for disorderly conduct and public intoxication.
-At 1:40 this morning, Vincennes officers arrested 18-year-old Matias Williams of Washington at 1533 North 17ty in Vincennes.  He was charged with possession of paraphernalia.
-Authorities investigated a domestic battery report at 1635 Parkinson in Vincennes last night.  40-year-old Jason L. Hill was jailed for a felony count of domestic battery and a misdemeanor charge of interference in reporting a crime..  He was arrested at 9:35-pm. The sheriff's department assisted Vincennes Police in the arrest.