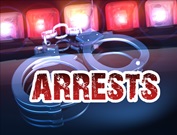 KNOX COUNTY
-Donald Leehy was arrested yesterday for theft, possession of stolen property and unauthorized entry of a motor vehicle.  VPD arrested him at 8pm in the 900 block of North 8th in Vincennes.
-At 7:45 last night, 29-year-old Laura Michelle Davis was arrested at Pearly Drive.  She was wanted on a warrant for failure to appear for operating while never licensed.
-Jason Wingler was booked into the Knox County Jail at 10:10 last night for public intoxication and intimidation.
-41-year-old Tom Reed was arrested yesterday by Knox County authorities on a Lawrence County warrant. He was jailed just before 2-am.
DAVIESS COUNTY
-31-year-old Mathew Seals of Palestine, Illinois was arrested yesterday in Daviess County on a Lawrence County Illinois writ of attachment.
-32-year-old John Vidos of Washington was jailed on a notice to revoke placement
31-year-old Ashley Hancock of Plainville was picked up yesterday on a petition to revoke a suspended sentence.  bond was posted.