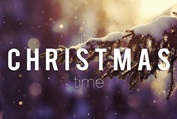 Downtown Vincennes will come alive this evening as the annual Christmas Parade of Lights helps to usher in the start of the Holiday Season.
Tonight's Festivities gets underway at 5 pm with the 1st Friday ArtWalk. Refreshments will be served at downtown area stores. That will be followed by the Parade of Lights at 6:30 pm. WVUT and WVUB will be assisting Helping His Hands with collecting canned goods for their food pantry during the parade. Children can have their picture taken with Santa Claus following the parade at Thursday Church at 218 Main Street until 9 pm.
On Saturday, Breakfast with Santa will start the day at 8 a-m at the Old Cathedral Parish Center on Third Street. Tickets are 5-Dollars and available at the door. Other activities activities include carriage rides, a recipe walk on Main Street, a live nativity from one to three p-m at Helping His Hands headquarters at 1107 Main Street.
The Christmas Stroll will conclude with the Community Christmas Tree lighting ceremony at Gimbel Corner at Second and Main at 6 pm, Residents are urged to bring an unwrapped gift for local needy children to the Tree lighting. Those gifts will be collected by Helping His Hands and distributed to area families.