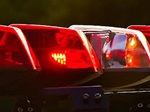 A Vincennes man suffered severe burns last night after his moped caught fire in the 400-block of North Second.
Alain Barcello was cleaning his moped when it caught fire. Fire crews found the vehicle was completely engulfed in flames when they arrived to put out the blaze.
Barcello suffered third-degree burns to his hands from the fire. He was taken to Good Samaritan Hospital for treatment.