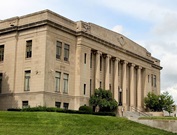 The Daviess County Commissioners held a special meeting and approved three items Wednesday morning.   
The Commissioners approved releasing a county lien on property in an estate after receiving an affidavit affirming that the terms of payment had been fulfilled.  The Commissioners then approved the road plan for Phase III of the Odon-Cannelburg Road project.  Also approved was a reimbursement agreement calling for the county to pay a little over $ 1 million to Daviess County Rural water and other area utilities for the return of easements along the Phase III right of way to the County Highway Department.  Daviess County will be reimbursed for eighty percent of the costs.
The Daviess County Council also met

Wednesday

morning.   The Council heard a request from the City of Washington to fund an full-time position in the Building Commissioners office.  Washington Building Commissioner Brian Sergesketter said an additional clerical position dealing was needed to deal with an increasing number of permit applications as a result of the county's zoning ordinance.   The County has an agreement with the City of Washington to administer the County's zoning ordinance.    Sergesketter told the Council that on some occasions he was spending 60 percent of his time on county business while receiving 90 percent of his salary from the city.   Washington is requesting the County pay $79,000 a year to administer the zoning code and to pay the cost of the proposed position that would pay $16-$18 per hour plus benefits.  Council members Jo Arthur and Mike Myers said having the City administer the county zoning code saves the County money.  The Council gave tacit approval to the idea pending minor changes in the inter-local agreement.  
     In other business, the Council approved several additional appropriations and fund transfers and heard a report from Purdue Extension's Nutrition Education Program personnel.