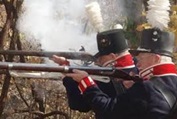 Fans of history can relive authentic military encampments and life on the frontier during this weekend's 18th annual Muster on the Wabash.
The event will be taking place at the Fort Knox Two Historic site north of Vincennes.
Re-enactors will be portraying soldiers and Native Americans as they describe daily life at the Fort and the events leading up to the Battle of Tippecanoe in 1811.
Event organizer David Weaver says Muster brings to life the stories of soldiers, residents and Indians living on the Indiana Frontier in the early part of the 19th Century.
Weaver says visitors will be able to experience battle re-enactments, musket demonstrations, plus activities for children. The event is free and parking is 5-dollars per vehicle. Food will also be available for sale.
Hours for the muster are from 9 a.m. to 5 p.m. Saturday and 10 a.m. to 4 p.m. on Sunday.
Fort Knox Two is located on lower Fort Knox Road, next to Wabash Trails Park.