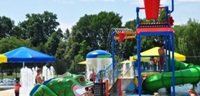 Vincennes Parks Superintendent Steve Beaman says Rainbow Beach ended the year in the black.
After expenses, Beaman says the parks department pocketed around 20-thousand dollars.
He says prior to building the new pool the parks department was losing around 30-thousand dollars a year on the old facility. Overall, attendance was down a bit compared to a year ago with over 29-thousand, 500 people coming through the gates.
Beaman attributed the downturn in part to school starting earlier in August. He says while the pool remained open on the weekends, they only averaged around 150 people per day. By the time you pay for staff and chemicals in the pool, Beaman says financially it wasn't worth their time to stay open.
Beaman says they may look at some other alternatives next year to increase daily attendance including extending the hours Rainbow Beach is open.