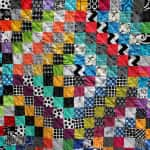 Maxine Ruth Blubaum passed away peacefully on August 26, 2016, at The Waters of Greencastle where she has resided for the last eighteen months.
 Maxine was born on November 30, 1921, to John William Allen and Ora Blanche (Russell) Allen near Robinson Hills, Illinois. The Allens moved to Daviess County when she was in the second grade. She attended school in Plainville and graduated from Plainville High School in 1940.
She married Jesse W. McCord on December 19, 1941. They had daughter Ora Jean McCord. Mr. McCord was killed in the service in WWII. On February 7, 1948, she married Edgar Blubaum. They spent their married years in Knox County, Indiana. Together they had four sons and one daughter. Edgar retired from the Vincennes Post Office. He died in 1992.
Maxine is survived by her children: Ora Jean Gillespie and her husband Doug of Fort Collins, Colorado; Lloyd Blubaum and his wife Helen of Greencastle, Indiana; Phyllis Burnett and her husband Joe of Rockwall, Texas; Wendell Blubaum and his wife Liisa of Helsinki, Finland; Edgar Blubaum of Denver, Colorado; and Eldon Blubaum and his wife Deborah of Prairieton, Indiana. She has eleven grandchildren and nine great-grandchildren. She is also survived by two sisters: Betty Funcannon and Evelyn Muston, both of Terre Haute, Indiana. She was preceded in death by her husbands, her parents, brothers Carl, Russell, Ralph, Walter and Donald along with two sisters, Ethel Burch and Etta Watkins.
Maxine joined St. John's Lutheran Church in 1954 where she enjoyed making quilts for underprivileged countries with the Ladies Missionary Group.
Funeral services for Maxine will be held at Goodwin Funeral Home, 524 Broadway on Monday, August 29, 2016 at 11:00 am with Rev. Ron Maxwell officiating. Burial will follow in Memorial Park Cemetery. Friends may visit with Maxine's family on Sunday, August 28, 2016 from 5-8 pm at Goodwin Funeral Home. Memorial contributions may be made to The American Cancer Society or The Waters of Greencastle Nursing Home, 1601 Hospital Drive, Greencastle, IN 46135.