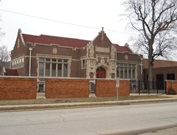 The Knox County Public Library wants to know what you want.
CONVERSATION MEETINGS
The Knox County Public Library will be hosting a pair of Community Conversations this week to hear from the public on what type of services they'd like the Library to provide.
The first meeting is scheduled for Tuesday at 6:30 pm in Wheatland at 159 East Old Highway 50 where the Library currently houses its mobile book station. Library Director Emily Bunyan says part of that conversation will be to guage community interest in whether or not residents wish to continue with the mobile book service or if there other options residents would like to see the library explore.
The second Community Conversation will be held on Wednesday at the main Library in Vincennes. Bunyan says they welcome feedback from the public.
---
MONEY HELP
The Knox County Public Library will host "Thinking Money", a new traveling exhibit designed to teach tweens, teens and the adults in their lives about money.
Library Director Emily Bunyan says money effects all of us, but many of us lack the information we need to make smart decisions about our financial future.
Bunyan added that the library has a handful of programs planned to along with the exhibit. The programs will include interactive I-Pad content and other activities which explore themes ,like wants versus needs, preparing for financial ups and downs and avoiding financial fraud.
The 1-thousand foot exhibit will be on display throught October 6th in the Library's sunroom.