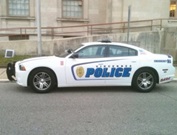 Battery arrest on Buntin Friday night…a man arrested at Good Sam on Friday afternoon.
-At 6:30 last night, Megan Melton was arrested at 1226 Buntin for battery. Police went to the home on a report of a citizen dispute.
-A Vincennes man wanted on a pair of warrants was arrested at Good Samaritan Hospital around noon Friday. Tommy Barnes was arrested on warrants charging him with resisting law enforcement and disorderly conduct. He was taken to the Knox County Jail without incident.