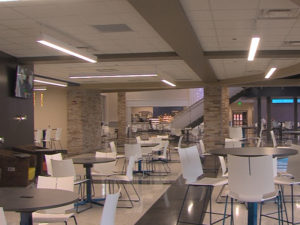 Guests attending a ribbon cutting ceremony for Vincennes University's new student center were definitely impressed by the new facility.
VU officials invited community members to take a tour of the facility yesterday ahead of students returning to campus.
Anecia (Uh-nee–shuh) Coleman, President of the Student Government Association says the decor of the building is welcoming and will definitely be a gathering place for students.
VU President Chuck Johnson says the 13-Million Dollar student union features a dining area, kitchenette, video entertainment, fire places and easy access to the VU Bowling Center which is right next door.
Johnson says they will continue to use the Beckes Student Union on Second Street. He says plans call for enlarging the VU Bookstore and hosting conferences and other events in the building..