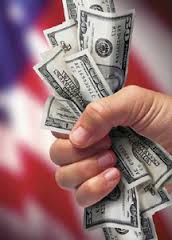 Lt. Governor says Pence will give him what's in the coffers…
Indiana Gov. Mike Pence's pick to replace him on the November ballot is suggesting that Republicans seeking the nomination might not get help from Pence's $7 million campaign fund should GOP leaders go against the governor's wishes.
In an email obtained by The Associated Press, Lt. Gov. Eric Holcomb told the 22-member Indiana Republican state committee that Pence has made it "crystal clear" that he'll give Holcomb financial and staffing support from the governor's campaign committee. Holcomb's letter says "that is something no other candidate in this race can boast."
The GOP committee is set to vote Tuesday on a candidate to face Democrat John Gregg this fall. Other leading Republican hopefuls are U.S. Reps. Susan Brooks and Todd Rokita.
Major Indiana Republican donor Al Hubbard calls Holcomb's letter "threatening."