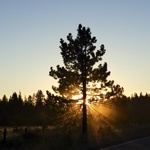 Amanda Lee Cox, 36, passed away on July 22, 2016 at 5:32 pm at Good Samaritan Hospital. Amanda was born on October 24, 1979 in Vincennes the daughter of Ronald Lee and Mollie (Wells) Cox.
Amanda was a member of the Church of God Prophecy and had been a manager for Arby's restaurant. She enjoyed spending time with her daughter and watching TV.
Survivors include her mother, Mollie Cox of Vincennes; daughter, Molliea Cox of Vincennes; sister, Tanya Ann Cox; and several aunts, uncles and cousins. Amanda was preceded in death by her father, Ronald Lee Cox and maternal and paternal grandparents.
Funeral services for Amanda will take place at 2:00 pm on Wednesday at Goodwin Funeral Home, 524 Broadway with Rev. Perry Wells officiating. Burial will follow in Memorial Park Cemetery. Friends may visit with Amanda's family from 1:00 pm until the hour of the service time of 2:00 pm on Wednesday at the funeral home. On line condolences may be sent at www.goodwinfamilyfh.com.