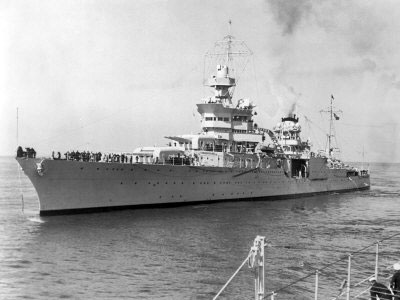 July 30, 1945. It's a day that will be forever etched in the minds of 23 survivors who are alive today, they will never forget.
At the time of the Naval ship's sinking during World War Two, of the 1,196 men on board, 300 went down with the ship, 900 were thrown into the sea- many wearing life jackets, and 317 in all, survived. The USS Indianapolis went down in just 12 minutes in the Philippine Sea. She had just delivered parts for the first atomic bomb to the United States air base at Tinian when the ship was torpedoed by a Japanese submarine.
It was the greatest single loss of life at sea in the history of the U.S. Navy.
Those who initially survived the sinking faced exposure, dehydration, saltwater poisoning and shark attacks while floating with only a few lifeboats and almost no food or water. The survivors were stuck at sea for four days when the Navy learned of the sinking and were spotted by another ship on routine patrol.
Since 1960, a USS Indianapolis Reunion has taken place to honor the lives lost and those who survived on that tragic day. This year marks the 71st Anniversary Reunion and survivors like 89-year-old Richard Thelen, from Lansing, Michigan, who hasn't missed a single one. "We try to keep the story alive, which is what we're doing and this is why we're here," says Thelen. He was 18 at the time of the sinking. Thelen says he survived wearing only a life jacket to keep him afloat and without any food or water for four days before he was rescued. Thelen is among one of the youngest survivors.
For Tom Rhoten of Washington State, he's there every year to honor his brother Roy, who was lost at sea. Now, 81, Rhoten was 10-years-old and living in Iowa when he was told the devastating news, days after it happened, that his beloved 18-year-old big brother was never coming home. "It was about the middle of August. Officially, he didn't get declared dead until the middle of October, but he went on board (the USS Indianapolis) on May 25th," says Rhoten.
He says the last thing anybody ever knew of his brother was when he said he was going to get a life jacket. "I always figured he was one of them (the 900) that got in the water because I figured he got a life jacket." Rhoten says his brother Roy was drafted and chose to join the Navy in February 1945, so he was only in the service for several months before the USS Indianapolis sank.
Rhoten said being at this year's reunion was so important to him, that he chose to drive to Indianapolis for it instead of attending a family reunion. Rhoten is also a veteran of both the Korean and Vietnam Wars.
Survivors and family members are set to gather at the Hyatt Regency in downtown Indianapolis this weekend to reflect and remember.