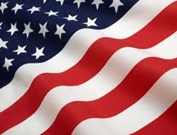 13 area veterans were honored for their service during a ceremony held Monday at the Indiana Military Museum in Vincennes.
The program was put on by the Vincennes American Legion Post 73 and recognized those veterans who served in World War Two and the Korean War.
Carl Bottoms who served in the Army during the Korean War was invited to attend the ceremony, but wasn't told by his family that he was among the honorees.
Others honored during yesterday's ceremony included Horace Foncannon, Al Nardine, Richard "Dick"Brown, Max (Sty-mel) Stiemel, Donald Biggs, Dick Edwards, Irvin Sievers, John Lyons, Albert Kimball, Marion Thompson Dan Wrignt and the late Bill Toth (Tah-th).
Each of the honorees received a plaque with their name and service record engraved on it.
American Legion Commander Bill (Coker) Kocher says the Legion has sponsored the Military Person of the Year award since 2010. He says this is the first year they've honored more than one individual. Kocher says that's because so many of the older vets are dying and they wanted to honor them while their still living.