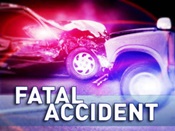 A Fourth of July Crash north of Loogootee took the life of a Daviess County man, injured four children, and resulted in a driver going to jail on numerous felony charges.
It happened at 2:40 when Jessica Bechtel of Odon was driving south on 231 five miles north of Loogootee.  State Police say her 2006 Dodge Durango crossed the center line and into the path of a 2015 Chevy driven by Terry Tapp of Martinsville.
Both drivers swerved to avoid the crash and Bechtel did miss the oncoming car but hit the camper trailer it was pulling.  Debris from the trailer was thrown through the front passenger side window of the Dodge Bechtel was driving and hit her passenger, Tyson Wilkie of Odon.  Wilkie died at the scene.  Four kids inside the Dodge were injured including Shaylee Bechtel of Odon who was taken to Daviess Community Hospital and later transferred to St. Mary's in Evansville.  The other three children were treated and released at the scene..
During the investigation of the crash, Troopers found that Bechtel had operated her vehicle with drugs in her system.   She was arrested on several charges lodged, without incident, in the Martin County Jail.