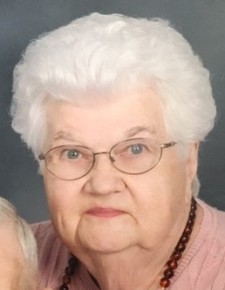 Pauline L. Baker, 87, of Evansville, and formerly of Vincennes, passed away June 24, 2016 at the Terrace at Solarbron, in Evansville, IN.
Pauline began working outside the home when her children entered school. She was a teacher's aide at Harrison Elementary School, and later joined the office staff at Pediatrics, Inc. Not content with retirement, she worked in the Ladies department at Wal-Mart.
A member of the First Christian Church, Pauline was in the 20th Century Class and a member of the Lydia Howe Guild. She was also a member of the Delta Theta Tau sorority.
Pauline enjoyed hosting family reunions at her home. She especially enjoyed when her grandchildren would stay at her home. Whether it was playing with sidewalk chalk, or several other activities, Pauline was in the middle of all of it, and seemed like she became a four- year- old all over again.
Born March 25, 1929, in Lawrence County, IL, she was the daughter of Everett and Perna (McCaulley) Fornshell. Her parents; and her husband, Lynn, preceded her.
Surviving are her children, Connie Barrow of Evansville, IN, and Stan Baker and his wife, Shirl, of The Villages, FL; sisters, Colleen Hill and her husband, John, of Forsyth, MT, Delorise Swaner of Robinson, IL, and Christine Hartz and her husband, Rick, of Robinson, IL; her grandchildren, Matt Baker, Bryan Baker and his wife, Rachelle, and Aaron Robinson; and a great-grandchild, Kylie Baker.
Friends may visit with Pauline's family from 5:00 – 7:00 EDT on Monday, at Goodwin Funeral Home. Her funeral service will begin at 7:00 on Monday, at the funeral home. Interment will be private.
Online condolences may be sent to the family through goodwinfamilyfh.com.