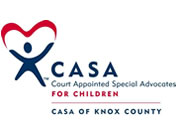 Dena Held, Director of Knox County CASA, is urging residents to attend a training and information class this week that helps prepare applicants to become CASA volunteers.
CASA stands for Court Appointed Special Advocates and represents the best interests of children who have suffered abuse or neglect.
Held says no experience is necessary.
The class will give more information on the program and answer any questions you may have. Advocates are needed for every child in the system.
If you have a willingness and desire to help children, please call the CASA program at 886-4470 or search CASA of Knox County Indiana on Facebook.