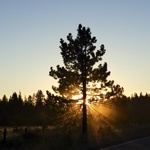 Bruce McCord, 90, of 1327 Parkinson, Vincennes, passed away at 10:08 pm Sunday June 26, 2016 at Good Samaritan Hospital.
Bruce was born on April 8, 1926 in Decker Chapel to Jesse and Ada (Curry) McCord.
A longtime member of the 40 et 8, he also belonged to the Moose, American Legion, and the Eagles. After his retirement from Victor Dana in Robinson, Illinois he drove a school bus for the Vincennes Community School Corporation.
Surviving is a daughter, Brenda (Michael) Scheidler of Trafalgar, IN; a sister, Joy White of Vincennes; two grandchildren, Jeff (Anne) Goff, and Tommy (Kayla) Goff; and three great grandchildren, Hayle Goff, Cameron Goff, and Joslin Goff.
Preceding him in death were his parents, along with three brothers and two sisters.
Visitation will be from 4-8 pm Wednesday June 29th, 2016 at Gardner Brockman Funeral Home. There will be no funeral service. Online condolences may be made at www.gardnerbrockman.com