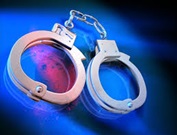 Warrants served and a motorist charged after a traffic offense…
-At 11:20 last night Vincennes Police arrestd 26-year-old Isadore Brown on a Knox County Failure to Appear warrant.  Vincennes city officers were assisted by VU Police.
-At 11:46 last night, Vincennes Police investigated a traffic offense in the 100 block of Hart.  Steven J. Puza was arrested for driving while suspended.
-At 5:15 last night Vincennes police arrested a woman on a warrant in the 400 block of South 10th.  43-year-old Gabriella Major was wanted for failure to appear in court on a drug possession charge.