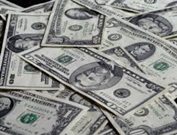 Hundreds of millions being brought into the state's capital this weekend…
You've heard all about the Indianapolis 500..but what about the money involved?
Indiana Economic Development Corporation president Jim Schellinger says the race is expected to bring around $330 million to the local economy. About 350,000 people are expected at the Indianapolis Motor Speedway for Sunday's race. It's the first time the race has been a complete sell out in its 100 year history.
Schellinger says the impact is also felt statewide. He says racing businesses across the state employ more than 23,000 people. They make around $63,000 a year on average.