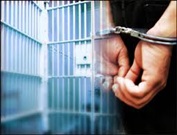 Arrests made for residential entry, and disorderly conduct reported…
—A Petersburg woman was arrested yesterday by Indiana State Police. 36-year-old Amber Renee Hatton is being held in the Knox County Jail on a charge of residential entry. Hatton is being held pending an initial court appearance.
—26-year-old Joshua Anderson of Vincennes was arrested by a Knox County Sheriff's Deputy Wednesday on a charge of disorderly conduct. He's being held in jail on 3-thousand dollars cash bond.
–The Knox County Sheriff's department arrested an Oakland City Woman on a warrant. 43-year-old Melissa Muse was wanted on a probation violation. Her bond at the Knox County Jail was set at 500-dollars.
—  A Knox County man was arrested in Daviess County for operating a vehicle while intoxicated. State Police took  54-year-old Mark Hacker of Vincennes to the jail in Washington on the charge yesterday.  He was released on bond.
NEW:
— 47-year-old Timothy M. Brown III was arrested by Vincennes Police this afternoon on a Knox County Warrant for Failure to Appear and Residential Entry.