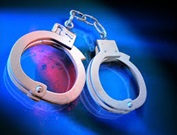 Man jailed following accident in Vincennes.
-Vincennes police responded to an accident at 6th and Manilla at 8:18 last night and arrested a Daviess County man.  22-year-old Andrew Simon Knepp was charged with driving while suspended, having no insurance with a prior conviction, leaving the scene of an accident, reckless driving and false informing.
-Police made a marijuana possession arrest in the 500 block of Rousillion at 8:15 last night.  24-year-old Jeremy D. Collins was taken into custody on the charge.