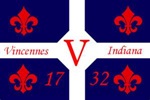 Among the many road projects in the City of Vincennes this summer is the extension of Kimmel Road between Hart and Main streets. The roadway is part of a planned makeover of the old K-Mart property. Local developer Heath Klein plans on demolishing the former K-Mart store and creating a new commercial retail area.
City Engineer John Sprague says the project will include a 2-lane road with a median and bicycle lanes. It will follow the existing entrance off Hart Street and will split into a roundabout dividing the property into four sections.
Sprague says because the road is privately owned the city is working with Klein to obtain easements for the road improvements. The Vincennes Board of Works earlier this week signed the title sheet for the project. Sprague expects a contract to be awarded by May with work to follow in short order.