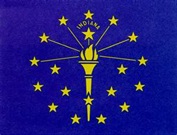 Indiana governor Pence signs fetal defects abortion ban
Republican Gov. Mike Pence has signed a bill making Indiana the second state to ban abortions because of fetal genetic abnormalities such as Down syndrome. The governor's office says Pence signed the measure Thursday, just hours ahead of his deadline to take action on the bill passed by the Republican-dominated Legislature. The new law takes effect in July. It will also prohibit abortions from being performed because of a fetus's race, sex or ancestry and mandate that the only way to dispose of an aborted fetus is through burial or cremation. The bill has drawn backlash from medical professionals and several female Republican members of the Indiana Legislature who say it goes too far in telling women what they can and cannot do. North Dakota adopted similar restrictions in 2013.
Pence vetoes bill requiring IDEM to report rules
Indiana Gov. Mike Pence has vetoed a bill that would have required the Indiana Department of Environmental Management to report to the Legislature when making rules. The measure was a diluted version of more contentious legislation that would have banned IDEM from creating environmental rules that are more stringent than federal regulations. Lawmakers scaled the bill back after debate between manufacturing companies that benefit from fewer pollution restrictions and environmental activists who said the bill would have limited the state's ability to deal with its specific environmental problems. A statement from Pence's office emphasized a need for IDEM having flexibility to take action when necessary.
Pence rejects limits on private college police disclosure
A bill that would have allowed private college police departments in Indiana to disclose less on-campus crime information than their public counterparts has been vetoed by Gov. Mike Pence. The bill would have required private colleges to release limited information only if an arrest was made. Pence previously expressed hesitations about the bill and said Thursday that his office will support government accountability. The veto comes as the University of Notre Dame fights a court battle against ESPN after the school refused a request for records of crime investigations involving student athletes. The rejected bill would have protected the university and other private schools in the future from having to fully comply with such requests.
Pence signs bill streamlining BMV fees for services
Customers of the Indiana Bureau of Motor Vehicles could benefit from streamlining the department's fees for services under a measure that Gov. Mike Pence has signed into law. The legislation signed Thursday follows an audit last year that found that the bureau had overcharged customers more than $60 million since 2013. Pence faces a Thursday deadline for acting on bills approved during the legislative session. He says he'll either sign or veto all the remaining bails instead of letting them become law automatically by inaction. Pending measures include those that would revive a stalled privatization deal for a banquet center at Indiana Dunes State Park, shelter private college police departments from many public records law, and increase Indiana's medical malpractice damages cap for the first time since the 1990s.
Pence backing raising medical malpractice payment limit
Medical malpractice victims will be eligible for more compensation now that Indiana Gov. Mike Pence has signed into law a bill increasing the payment cap for the first time since the 1990s. The bill raises the current $1.25 million limit to $1.65 million and then to $1.8 million by 2019. The governor's office says Pence signed the bill on Thursday. The proposal originally failed after talks with medical associations broke down over provisions that would have gradually increased the cap to keep up with inflation. The measure was revived with a limited increase, which supporters said was needed to protect the cap from court challenges since it hasn't been raised for so long.
Indiana governor signs fantasy sports regulations bill
The Indiana Gaming Commission will soon have the authority to regulate fantasy sports companies. The governor's office says Gov. Mike Pence signed into law Thursday a bill allowing the commission to oversee companies that offer the games where players compete online for cash prizes by picking teams of real-life athletes. The law taking effect in July requires players to be at least 18 years old, prohibits contests based on college or high school sports. It sets an initial licensing fee of $50,000 for companies, along with an annual $5,000 fee. Supporters said the law is necessary to ensure fair contests for the estimated 1 million Indiana residents who play fantasy sports games. Opponents argued that the games amount to gambling on sporting events and shouldn't be legalized.
Pence signs bill boosting planned Indiana Dunes development
An embattled privatization deal for a proposed restaurant, bar and banquet center at Indiana Dunes State Park will get a boost under a bill signed by Gov. Mike Pence. The measure will allow politically connected developer Chuck Williams of Valparaiso to sell alcohol at the planned development along the Lake Michigan beachfront. It circumvents a local board and the state's Alcohol and Tobacco Commission, which both denied Williams a permit. Opponents point to favorable lease