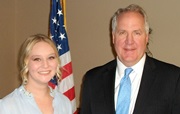 photo of Hannah Burkhardt of Bridgeport and Congressman John Shimkus
From Lawrence County: Hannah Burkhardt of Bridgeport (USNA)
Illinois Congressman John Shimkus (R, Illinois-15) has announced 17 nominations to military service academies. The congressman nominates, and then the academies themselves make the final determination whether a nominee receives an appointment to attend that academy.
One of the nominees is Hanna Burkhardt of Bridgeport.   She is hoping to attend the US Naval Academy in Annapolis, Maryland.
High school juniors, college students, or current members of the military who are residents of the 15th District and wish to attend an academy beginning in 2017 can request a nomination packet by writing Congressman John Shimkus, 15 Professional Park Drive, Maryville, IL 62062.  Those packets with complete requirements will be sent out in late summer.