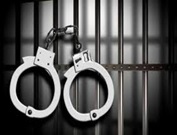 SUNDAY ARRESTS
-Vincennes police served an arrest warrant at 4:15 on Sunday at Ivy Lane Apartments.  45-year-old Roger M. Gillespie was picked up for failure to appear on charges of operating while intoxicated, resisting law enforcement, and disorderly conduct.
-Sunday at 4:15-am, 47-year-old Cory Douglas Wanke of Vincennes was arrested at the Hart Street Hucks on a warrant for criminal trespass.
SATURDAY ARRESTS
-Saturday at 5:55, Vincennes police made traffic stop at US 41 north between Willow and Hart.  Arrest in the incident was 30-year-old Cacey Nicole Anderson of Edwaresport.  Charges included, possession of marijuana under 30 grams, possession of bath salts and citations for have false plates and no insurance.
-31-year-old Alicia Dawn Stephens of Bridgeport, Illinois was arrested after a traffic stop in Vincennes at 4:45 Saturday afternoon.  Stephens was charged with possession of meth, K2, and paraphernalia.  She's also charged with attempted trafficking with an inmate.
-At 1:15 Saturday morning, a traffic stop in the 1100 block of Willow resulted in the arrest of 27-year-old Rodney J. Sherman.  He was wanted on a warrant for theft and possession of meth.  That arrest was made by state police.