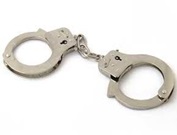 -A Vincennes man was arrested at midnight last night for operating while intoxicated with endangerment.  Vincennes Police arrested 57-year-old Thomas Richard Wall at Old Bruceville Road and Grouseland Drive.  VPD was assisted by state police.
-20-year-old Brady Ikemire was arresed by Vincennes Police for shoplifting and unlawful consumption of alcohol. Officers responded to a call shortly 10 pm Saturday to the Vincennes Wal-Mart on Kimmell Road. Police say Ikemire had merchandise in his possession which he had allegedly failed to pay for. He was booked into the Knox County Jail.
-At 11:16 pm Saturday, Vincennes Police arrested a Bridgeport, Illinois man in the 25-hundrend block of North Second Street. Police say 52-year-old Danny Shook was wanted on a Bond Violation warrant out of Lawrence County.
-34-year-old Eric Barcelo of Vincennes was arrested Sunday morning in the 100 Block of Landrey Drive. Vincennes Police say Barcelo was wanted on a Knox County warrant. He was booked into the Knox County Jail.