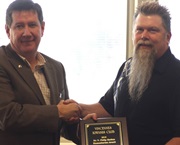 Helping His Hands Director Scott Shipman is the latest recipient of the Dr. Phillip Shelton Humanitarian award.
The award is presented annually by the Vincennes Kiwanis Club. In making the presentation, Kiwanis President Kevin Rowland says Shipman embodies the spirit of the award.
Shipman's says he's not afraid to say he follows the learnings of Jesus Christ. He says if your a true believer then walking across the street to extend a hand when someone else is down on their luck should come naturally.
Shipman along with other volunteers from Helping His Hands have traveled to other states to provide supplies and spiritual support to those who;ve lost everything from storms and other natural disasters.
Helping His Hands has also set-up a food pantry in Vincennes to feed others in the community. Shipman's latest project the House of Hope recently opened its doors to shelter families who've been displaced from their homes.