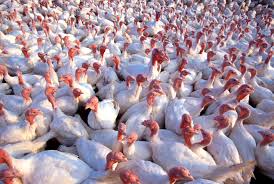 At least 10 commercial turkey farms in the Dubois County area have now tested positive for avian flu. The total number of birds affected totaled 240,900. An estimated 119,500 birds have been euthanized on four premises.
Indiana State Board of Animal Health spokeswoman Denise Derrer says aggressive testing continues..
The control area is primarily in Dubois County, and has expanded to include parts of, Daviess, Martin, Crawford and Orange counties. All infected sites are in Dubois County. Health officials say Avian influenza does not present a food safety risk; poultry and eggs are safe to eat. Dubois County is Indiana's largest turkey-producing county, growing 1.4 million birds annually. The state ranks fourth in the nation in turkey production.