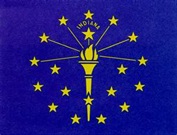 Republican lawmakers asking for a federal review of HIP 2.0 to be cancelled…Indiana lawmakers say a law requiring a prescription for pseudoephederine is not likely this session…
HIP 2.0 REVIEW
Health and Human Services Secretary Sylvia Burwell is shrugging off Republican complaints about a federal review of Indiana's state-run health insurance plan.
Indiana Representatives Larry Bucshon and Susan Brooks and Senator Dan Coats wrote Burwell this week asking her to cancel a federal review of HIP 2.0. They say the state has already commissioned its own outside review, and they charge the federal contractor, the Urban Institute, is biased against the program — the organization has criticized the health savings accounts at the center of the program.
Burwell said on a visit to Indianapolis it's indisputable that the HIP expansion has meant health coverage for more Hoosiers,
Burwell says at least 30 states have gotten federal waivers to put their own stamp on health insurance plans, and says it's important to get objective measurements of which innovations arre working and which aren't.
Burwell was in Indianapolis to showcase the federal health care law and remind people of the approaching open-enrollment deadline at the end of the month. She met with eight Hoosiers who wouldn't have insurance without the law.
---
INDIANA METH LAW
Indiana legislators are poised to start debates on how to combat growing methamphetamine production in Indiana, but adding a prescription requirement for one of the illegal drug's key ingredients is off the table.
House Public Health Committee Chairwoman Cindy Kirchhofer says she won't bring up a bill to require a prescription for cold medicine that contains pseudoephedrine. The Beech Grove Republican cites a lack of support for the measure.
Senate Corrections and Criminal Law Committee Chairman Michael Young of Indianapolis says his committee also will not hear the proposal.
In previous years, the requirement has been the subject of tense debate.
House Speaker Brian Bosma last fall endorsed the prescription requirement, but this week said he was open to other options for fighting meth production.
---
IBA POLICE RECORDINGS
Despite lobbying by the Indiana Broadcasters Association, Indiana House Bill 1019, sailed through a House committee with a unanimous vote.  The bill "restricts public records requests for law enforcement recordings" and requires a court order to release recorded police body camera video.  House Bill 1019 would give police chiefs and sheriffs carte blanche to decline all requests from the public or press solely on the basis that they don't want to make videos available."
EVANSVILLE ROBBERY
EVANSVILLE) – An attempted robbery of an Evansville pizzeria was foiled thanks to the staff and customers of the establishment. According to WFIE, a man walked in to Una-Tu Pizza around 7 p.m. on Friday night and demanded they hand over the money, threatening one employee with a knife. When several customers saw this, they tackled the man to the ground. One customer said he was bit during the altercation, and drove himself to a hospital. Police haven't released the name of the robber, but say he didn't get any of the money he was hoping for.