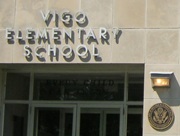 Teachers, staff and students at Vigo Elementary School are dealing with  more than their share of grief this week. Not only did they lose a classmate, but two parents whose children attended Vigo were killed in separate traffic accidents..
Vincennes Schools Superintendent Greg Parsley says its been a pretty tough week and counseling has been offered to those at the school who are grieving.
Parsley says a memorial fund has also been set-up to assist the family of 8-year-old Madison Rose Jaquet who died on Wednesday. Donations can be dropped off at Vigo Elementary or Woodforest Bank inside Wal-Mart.  The investigation into her death is continuing.
Parsley says individuals within the school corporation are also looking to assist the families of Jackie Thomas and Matthew Weilier who died in separate car accidents in Sullivan and Gibson Counties this week.