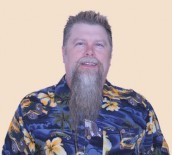 Scott Shipman has had many different occupations in his lifetime. From Youth Minister to heavy equipment operator, he has "worn many hats" throughout the years. But the one thing that has remained constant in his life is his passion for helping others. "When people ask me why I volunteer, it's the same as asking me why I preach," stated Shipman. "It is built in me. If I didn't do it, I would be consumed. I enjoy helping others and am the type of person that sees things that need to be done."
This mentality beganwhen he was a child in southern Illinois and has continued to flourish over the years. Now living in Vincennes, Shipman and his wife, Trina, have three children; Keturah, who is married to Anthony Mumma and has a daughter named Keelie; Mariah; and Joshua. His resume is packed full of various endeavors, but he is currently the Vincennes University Campus Minister and the Director of Helping His Hands; a short-term mission organization specializing in disaster response. Helping His Hands has grown tremendously over the years under Shipman's leadership. The organization provides relief to communities after a disaster, has a food pantry that serves more than 1,400 people each month and has recently opened a homeless shelter in Vincennes called the House of Hope.
When he learned he was the recipient of the N. Philip Shelton Humanitarian Award this year, Shipman stated that he was shocked and humbled. "When I was first told I was receiving the award, I thought there were more deserving people than me," he stated. But those individuals who are lucky to be around him every day believe that Shipman's desire to help those in need should not go unnoticed. "Scott has brought a new synergy to our county with his dynamic work on disaster relief. He has engaged a number of people in our area that were not previously involved in such efforts. This new energy has now led to other projects throughout the community," stated Mark Hill, Executive Director of the Knox County United Way and fellow Shelton Award winner. "He not only exemplifies the definition of a humanitarian, but he exceeds normal expectations by his selfless acts for his fellow man," added Kevin Rowland, Vincennes Kiwanis President.
Shipman's modesty for what he does is unmistakable. "I want to accept the award on behalf of all volunteers who help me," stated Shipman. "No one can do it alone. God can use you at any age. We don't realize the things we can do until we try. God has surrounded me with the right people at the right time."
Shipman will be presented with the Shelton Award on Sunday, January 17 at 2 p.m. in Eva Hill Auditorium at Good Samaritan's Health Pavilion. The public is invited to attend.
A family physician in Vincennes, Dr. Shelton lived a life of dedication to his community and serving others. In recognition of his service, the Dr. N. Philip Shelton Humanitarian Award was established in 1998. The purpose of the award is to recognize and promote humanitarian achievement in our community.
Shelton Humanitarian Award nominees must be Knox County residents who have demonstrated extraordinary efforts in working to improve the general well being and happiness of others; worked consistently to meet the physical, social, economic and/or educational needs of individuals in our community; and exemplified the spirit of Dr. N. Philip Shelton by actions and deeds. Past winners include: Mark Hill, Siegfried E. Schleicher, Nancy Carie, Jennifer Jones, John Lyons, Velma Hendrix and Max Renshaw.