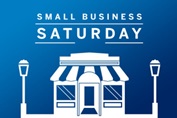 Thousands of local, independent retailers are depending on Hoosiers this holiday season. Knox County Chamber of Commerce President Marc McNeece says many residents will visit malls and national chain stores, but they should also remember the small, local merchants who also impact the community in a variety of ways.
McNeece adds that buying locally has great advantages that often includes greater customer service and sharper focus on merchants' specialties and what customers may be seeking.
The day After Black Friday is Shop Small Saturday. McNeece is encouraging Knox County residents to shop with their local merchants to choose some of their Christmas Gifts .