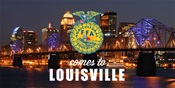 Tens of thousands of young people will convene one more time in Louisville as the National FFA Organization holds its final national convention in the city — for now.
The 2015 National FFA Convention & Expo is expected to attract 60,000 primarily high school students to the event Oct. 28 to 31. Its economic impact is projected to be $40 million.
The organization has committed to have the convention from 2016 to 2024 in Indianapolis, the group's national headquarters. Chief Operating Officer Josh Bledsoe affirmed the FFA leadership decision earlier this year that Louisville doesn't have enough hotel rooms within 40 miles offering affordable rates for two occupants.
Bledsoe says the FFA will welcome bids from Louisville or any other city to be the convention site if the Indianapolis obligation ends.