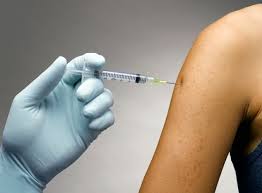 State health officials are urging Hoosiers to get their flu vaccinations to protect themselves from influenza this season.
Indiana State Health Commissioner Jerome Adams says the best ways to protect yourself and your family is to get vaccinated and follow good health practices.
Influenza, or the "flu," is a viral infection spread by respiratory droplets from infected people or contact with contaminated surfaces or objects.
Sometimes people may become infected by touching surfaces or objects contaminated with influenza viruses and then touching their eyes, mouth or nose.
Adams says seasonal flu viruses can vary from year to year, so it is important to get a flu vaccine every year to protect against them.
It's estimated that only 44 percent of Hoosiers received a flu vaccine last year and almost half of all Hoosier children ages 6 months to 17 years did not receive a flu vaccine.