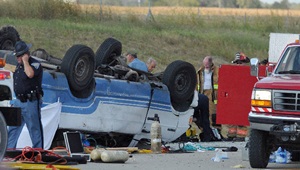 photo from timesfreepress.com
One died and around two dozen others were injured when a van blew a tire on I69 at the Fort Branch exit in Gibson County at 4:30 eastern Time Thursday.
Authorities say the van was enroute from Washington to a factory in Evansville.  The 16 passenger van was carrying 24 people. Three were flown from the scene by helicopter.  Six people were being treated at the hospital in Princeton and 17 others at Evansville Hospitals.
An autopsy is set to be conducted on the deceased in Terre Haute today.
The investigation into the crash is continuing.  Names have not been released.