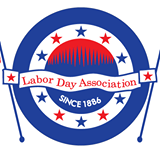 The Labor Day Association holds it's 129th Labor Day Celebration this weekend.  The rotating festival is in Petersburg this year.
Charlie Wyatt is with the Association and says it's all meant to celebrate labor…
It'll all be held at Hornaday Park in Petersburg Friday through Monday.  The weekend is complete with a carnival, baby and beauty contests, a talent show, a demo derby and much much more.  There's a Labor Day Parade at 9 on Monday morning.
For a complete schedule of events you can check out labor day assoc dot com.