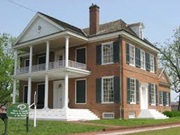 The historic mansion of William Henry Harrison in Vincennes will again be the focus of a national tv show.
Lisa Ice-Jones executive director of the Grouseland Foundation has announced Grouseland has been selected as a stop on "American Ride.  The show airs on on BYU-tv, a cable channel owned and operated by Brigham Young University that features a high school history teacher visiting historic spots across the country.
The Vincennes Sun Commercial reports Stan Ellsworth is the host of the show that's in in its 10th season.
A crew will be filming at Grouseland  on Sept. 19.
Grouseland in the past was the subject of an episode of the sit com Parks and Recreation.