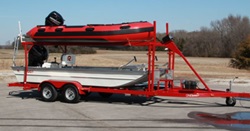 Firefighters in Vincennes are continuing to ask the public for help raising enough money to buy a boat for water rescues on the Wabash River.
Fire Department battalion chief Tony Jarrell is leading the fundraising effort he's dubbed "Float the Boat" to raise $50,000 to buy a rescue boat and a paired inflatable boat.
Jarrell tells the Vincennes Sun-Commercial that "people are always amazed" that the city doesn't already have a rescue boat.
The Knox County Emergency Management Agency owns a similar rescue boat and an inflatable boat, but it's stored at a fire station too far from the river to be of much use for a river rescue.