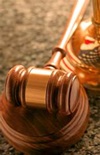 A court appearance is expected next week for the man accused of shooting two men in rural Martin County.
33-year-old Nathan Baker is charged in the deaths of 82-year-old Alan Sims and 52-year-old Tom Tharp. Police believe Baker shot Sims in his garage.
The body of Tharp was discovered nearby. A motive has not been released.
Baker remains in the Martin County Jail and will hear his formal charges as soon as Monday.