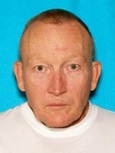 The Gibson County Sheriff's Department is investigating the disappearance of an adult male from Oakland City, Indiana.  Oakland City, Indiana is located approximately 36 miles north of Evansville, Indiana.
The target of the Silver Alert is Terry W. Stolz, a 62 year old white male, 5 feet 10 inches tall with buzz cut brown hair, and blue eyes.  He was last seen wearing white shorts with an orange stripe, white shirt, grey tennis shoes and a clearly visible back brace.
Terry W. Stolz was last seen traveling on foot on Thursday, August 27, 2015 at 1:00 pm CST, in Oakland City, Indiana, and is believed to be in danger.
Anyone with information concerning Terry W. Stolz should contact the Gibson County Sheriff at 812-386-6000.