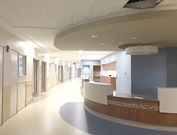 Good Samaritan Hospital is ready to show off its newest facility.
A Ribbon Cutting Ceremony and tours of G-S-H's new Gibault Memorial Tower are scheduled for this afternoon.
Hospital President and CEO Rob Mclin says the state of the art facility was designed with the intent of having a more efficient operation especially for patients who maybe face life-threatening health issues.
The Ribbon Cutting Ceremony is scheduled for 3:30 this afternoon which will be followed by tours of the new facility starting at 4 pm.
The event is open to the public. The new Gibault Tower is the centerpiece of Good Samaritan's 110-million dollar Beacon Project.