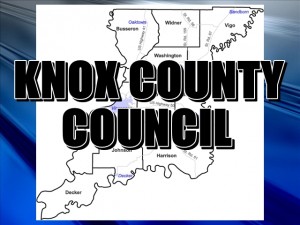 The Knox County Council has appropriated an additional 750-thousand dollars for road paving. The action follows a report by County Highway Superintendent Donnie Mize who indicated that two roads in the northern half of the county need attention. Otherwise the county would have no choice but to turn them into gravel roads. Mize says the weather has played a major impact as well. He said seven roads have been closed due to high and in some areas standing water has eroded away a portion of the blacktop. Along with the 750-thousand dollars the council appropriated, Mize says Knox County expects to receive another 735-thousand from the state.
In a related matter, council approved a new line item in the Highway Department's budget for Tank Cars and placed 50-thousand dollars in the line item. Mize also requested and received an additional 30-thousand dollars for Culvert piping. He says the highway department expects to do more piping an culvert work in the coming months to shore up roadways and minimize flooding in low lying areas.
---
The Knox County Council tabled action on tax abatements for Duke Energy. Although all the paperwork appeared to be in order, Council President Bob Lechner wanted Umbaugh and Associates to sign off on the paperwork before granting approval. The abatements are on the real property, natural gas and chemical sides of the Edwardsport plant. Duke officials say the numbers are essentially the same as last year…except the abatement on the plant decreases by 2-percent which benefits the county.
Council also appropriated an additional 60-thousand dollars for operation of the Knox County Jail. Sheriff Mike Morris says the jail is starting to experience some wear and tear. Morris reported they are needing to replacing an air conditioning unit and some of the doors are needing repairs.
Council also granted Morris permission to fill two existing positions at the Jail. He indicated that they would be losing two jailers within the coming month. He says the two jail employees are leaving for better paying jobs.